One of our highest priorities is to ensure you completely understand what dental implants are and all of your treatment options before proceeding. You can be assured we will take the time to answer all of your questions.
In this section…
Additional Websites on Dental Implants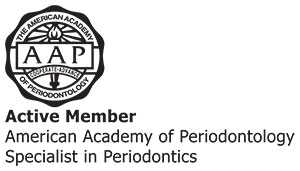 Replacing a Single Tooth with Dental Implants
Dental implants are today's method of choice for replacing missing teeth. They are long lasting, natural in appearance, and promote jaw health. By working in tandem with your dentist, we hope to provide you with a replacement tooth that will last for a lifetime.
A natural tooth is anchored into the jawbone by its tooth root. Tooth roots attach firmly to the jawbone and keep your teeth stable when chewing solid foods.
Traditionally, if you were missing a tooth or if one needed to be extracted, the healthy teeth on either side of the missing tooth would be cut down and replaced with a three-unit "bridge."
Dental implants are the modern alternative. Instead of cutting down two perfectly healthy teeth, your periodontist inserts a dental implant into the jawbone to replace your missing tooth root. The implant becomes solidly fixed into your jaw bone (osseointegration). Your general dentist then places a crown onto this artificial tooth root that looks, feels, and functions like your natural tooth.
Put simply, dental implants are the most natural replacement for missing teeth.
Replacing Multiple Teeth with Dental Implants
Do you have roots exposed by gum recession?
Gum recession can expose tooth roots and show more of your teeth than normal. Longer looking teeth and exposed tooth roots give an "old" appearance to your smile. Some people cover their mouths when they smile for this very reason.
Normally gum tissue surrounds and protects the delicate roots of your teeth. Exposed tooth roots are prone to tooth decay, root canals, discoloration and actual jawbone loss. All of this can lead to tooth loss in advanced cases.
Procedures: Soft Tissue Grafting
Do you have missing teeth?
Dental implants are regarded as the preferred approach for replacement of missing teeth as they preserve bone structure and allow you to comfortably and effectively.
The Effects of Tooth Loss
Dental implants are the most natural solution for missing teeth. By replacing the root of the tooth with an implant, you can restore your natural smile and prevent bone loss in your jaw, which will help you maintain a healthy, young appearance.
After a tooth is lost, the bone previously supporting the tooth will start to dissolve without the stimulation that the tooth root (or implant) delivers. This leaves a "dip", or a sunken in section of bone that actually spreads toward other teeth.
When bone loss occurs, it affects your overall facial appearance imparting an "old age look" with sunken in lips and/or cheeks.
The "artificial roots" of dental implants will fuse to the bone and act just like natural tooth roots in keeping the jawbone firm and strong. Your jawbone will naturally regenerate and stay strong around it, holding your new tooth in place, and retaining your youthful appearance.
Implant Retained Dentures And Bridges
Traditionally, several missing teeth would have been replaced with a removable partial or full denture.
Dentures have to be taken out and soaked at night. During the day, they can also look unnatural and rub painfully. Dentures and partials make it difficult or impossible to eat certain foods.
No More Loose Dentures!
Without the proper fit, dentures can also be uncomfortable and come loose during speaking or eating. If you currently have dentures, or are considering them, dental implants can provide a more comfortable and healthy alternative.
Dental implants can now be used to anchor partial and full dentures. This prevents the slipping, irritation, and pain associated with "floating" partials and dentures. It also prevents the tedious removal of dentures for overnight soaking and cleaning.
Dental implants also eliminate the need for denture adhesives. This allows you to enjoy eating the foods you previously avoided. With dental implant support, your dentures can be removable for ease of cleaning or can be attached to the implants permanently and not removable.
Natural tooth roots and dental implant posts are fixed firmly in your jawbone. When you chew, these tooth roots and posts stimulate the jawbone and prevent it from shrinking. You may have seen a person who looked prematurely old because their jawbone had shrunken after wearing floating dentures. Dental implants help preserve your jawbone and appearance.
Sinus Lift for Implants
A key to implant success is the quantity and quality of the bone where the implant is to be placed. The upper back jaw has traditionally been one of the most difficult areas to successfully place dental implants due to insufficient bone quantity and quality and the close proximity to the sinus. If you've lost bone in that area due to reasons such as periodontal disease or tooth loss, you may be left without enough bone to place implants.
Sinus lift surgery can help correct this problem by raising the sinus floor and developing bone for the placement of dental implants. Several techniques can be used to raise the sinus and allow for new bone to form. In one common technique, an incision is made to expose the bone. Then a small rectangular opening through the thin outside wall of the jaw is made. This bony piece is lifted into the sinus cavity, much like a trap door, and the space underneath is filled with bone graft material which will encourage growth of new bone tissue.
The incision is closed and healing is allowed to take place. Depending on your individual needs, the bone usually will be allowed to develop for about 6-8months before implants can be placed. After the implants are placed, an additional healing period is required. In some cases, the implant can be placed at the same time the sinus is augmented.
Undergoing sinus lift surgery has been shown to greatly increase your chances for successful implants that can last for years to come. Many patients experience minimal discomfort after this procedure.
Sinus lift procedures are routinely done for upper implants and successfully provide enough bone to anchor them.
Procedure: An incision is made in the gum covering the upper jaw and a small amount of bone removed to expose the sinus cavity. The lining of the cavity is gently lifted and bone material inserted below it.